Communities
We are not just a construction company, we are a business that is committed to building better, stronger, safer and more sustainable communities and a proven track record of commitment to the continued reinvestment in its workforce and local communities where we live and work, through employment/training opportunities, partnerships and initiatives to improve the health and well-being of individuals living locally.
The Company has numerous initiatives to train and develop skills in construction, and is a founder member of Carmarthenshire Construction Training Association Ltd (CCTAL Ltd), an innovative and unique organization within Wales and Delwyn Jones, T.A.D's Commercial Director is also a Director of CCTAL.
This partnership was established between industry and education to recruit and train people wanting a career in the construction industry. Apprentices gain qualifications and a trade through regional shared apprenticeship schemes managed by Cyfle.  This is a particular good example of Targeted Recruitment and Training and this training initiative has received a UK National Training Award due to its success.
Construction Curriculum Support Activities
Delwyn Jones, our Commercial Director, sits on the board of Wales Construction Careers and Skills Provision Advisory Group in conjunction with CITB, and the Company has been appointed to a Construction Skills national observatory group.
TAD were proud to support the Vocational Learning Centre at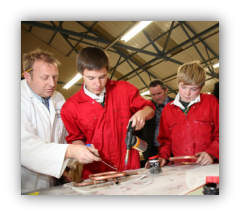 our Head Office facilities over the last five years which benefitted the areas secondary schools and adults with a desire to learn skills in DIY and Construction. Such was its success it has now relocated to larger premises.
Formed through a partnership between Coleg Sir Gâr, Llanelli Secondary Schools, Carmarthenshire County Council's Adult Community Learning and T.A.D. the Centre allows children in the Carmarthenshire area to access construction related courses as part of their school curriculum and allow adult learners to access part-time evening courses including those for home maintenance.
Charitable giving
Leading from the front, the TAD's directors and staff take part in numerous charity and team building events, including bike rides, raising money for a variety of worthwhile causes. This aligns closely with the company ethos which is one of teamwork, something which is vital for a motivated and productive workforce.
The Company have been involved in a number of community initiatives over the years and some examples are included below:
Providing opportunities for secondary school children to discuss careers with craftsmen, labourers, building professionals.
Provision of materials and labour to create an eco-garden and sensory garden at local primary schools. Children were also given the opportunity to contribute to the planning and calculation of the materials required for the projects along with receiving talks on the dangers of construction sites.
Contributions, in terms of staff time and finances, to local groups that improve the health and well-being of the community, for example, junior, teenage and adult sporting events, Rotary Club, local schools and old age associations
Community Project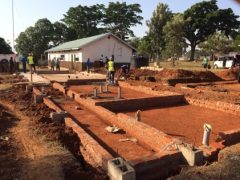 The Company is fortunate that their employees are keen to support local communities both home and overseas. Over the last two years several operatives have travelled to Uganda to help construct a Grinding Mill and Food Warehouse and Maternity Unit which is still ongoing for the village of Kachumbala.  This involved the support of the local community who provided labour to assist our team and support from our local supply chain in the UK via the donation of tools, equipment, work wear, etc.